Shaker-Incubators – ES-20/60: Orbital (BioSan)
Shaker-Incubators – ES-20/60: Orbital (BioSan)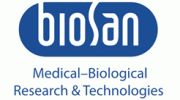 ES-20/60 Orbital Shaker-Incubator provides reliable and stable operation for long term experiments
The Orbital Shaker-Incubator is designed for use in biotechnological and pharmaceutical laboratories.  This unit is equipped with direct-drive mechanism for platform motion which provides smooth or intensive mixing in flasks installed on the platform.
State-of-the-art motor
Speed control range 5-250 rpm (increment 10 rpm)
Temperature setting range +25°C... +80°C
Inner chamber is stainless steel
Built-in heat-resistant brushless fan provides precise temperature distribution
Soft-start of the platform motion and temperature PID-control decrease energy consumption.
See also the *NEW*
ES-20-80
model Orbital Shaker-Incubator.