Adhesive Mats – Double-sided: SPM (Biosan)
Adhesive Mats – Double-sided: SPM (Biosan)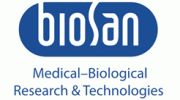 SPM Double-sided Adhesive Mats are a convenient alternative to traditional steel holders
The double-sided Adhesive Mats provide an easy way to fix tubes, plates, flasks and other laboratory wares on platforms for cultivation, incubation and mixing. They are compatible with PP-4 platform, that fits both on  PSU-10i Orbital Shaker and in ES-20 Shaker-Incubator.
Made of polyurethane with adhesive
Simple to clean and durable
Temperature range +4C° ... +80C°
Speed range 0-300 rpm
Able to withstand up to 1,000 times placement/removal or 12 months of use.
See also SPML double-sided Adhesive Strips.