Shaker-Incubator – ES-20: Orbital, Compact (BioSan)
Shaker-Incubator – ES-20: Orbital, Compact (BioSan)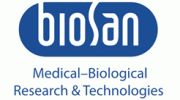 ES-20  Orbital Shaker-Incubator is a compact bench-top model and extremely easy to operate
The Orbital Shaker-Incubator is designed for mixing biological liquids as well as for incubation and cultivation of biological liquids. Five interchangeable platforms allow the growing of cell cultures in flasks, extracting tissue samples and other sample preparation processes.
Direct-drive system ensures reliable stable long-time operation
Controlled by digital tachometer (rpm) and digital time setting
Speed control range 5-250 rpm
Temperature setting range +25°C... +42°C
Built-in microprocessor thermocontroller provides constant temperature control.
See also the *NEW*
ES-20-80
and
ES-20-60
models Orbital Shaker-Incubators.