Shaker-Incubators – ES-20/80: Orbital (BioSan)
Shaker-Incubators – ES-20/80: Orbital (BioSan)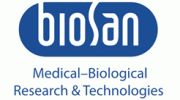 ES-20/80 Orbital Shaker-Incubator provides extreme balancing characteristics
The Orbital Shaker-Incubator is designed for use in biotechnological and pharmaceutical laboratories.  This unit is equipped with a newly developed triple eccentric mechanism for platform motion that provides supreme balancing characteristics, superior reliability and quiet operation.
New display with easy to use interface
Out of balance sensor
Automatic thermostat failure detection
Bluetooth connectivity to PC
Inner chamber is stainless steel
Speed control range 5-400 rpm (increment 10 rpm)
Setting range +25°C... +80°C
Built-in heat-resistant brushless fan provides precise temperature distribution.
To provide an easy way to fix tubes, plates, flasks and other laboratory wares to the UP-168 platform on the ES-20/80, see
SPML Double-sided Adhesive Strips
- a convenient alternative to traditional steel holders.
See also the ES-20-60 model Orbital Shaker-Incubator.