Centrifuge – LMC-3000: Laboratory Bench-top (BioSan)
Centrifuge – LMC-3000: Laboratory Bench-top (BioSan)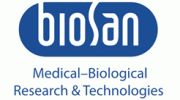 Laboratory Centrifuge, LMC-3000, is a modern low-speed bench-top centrifuge
This Laboratory Centrifuge is designed for operation with micro-test plates and centrifuge tubes up to 50 ml Gel Cards. Safe operation at any speed is provided by a metal protection chamber and case cover.
Soft start and run-down of the rotor
Automatic stop at imbalance
Lock deeps the lid closed while running
Multiple acceleration and deceleration modes
Wide choice of accessory rotors.