UV Cleaner-Recirculators – UVR-M & UVR-Mi (BioSan)
UV Cleaner-Recirculators – UVR-M & UVR-Mi (BioSan)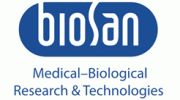 The UV Cleaner-Recirculators provide complete protection from direct ultraviolet radiation
UV Cleaner-Recirculators are effective against common airborne diseases by disinfecting the air and efficiently destroying disease-causing agents (viruses, micro-organisms) by UV radiation. They are ideal for air disinfection in research laboratory rooms, hospitals, waiting rooms in outpatients departments and surgeries.
Convenient fixation on walls
Optional mounting on a movable tripod (optional extra)
Two continuous modes
Indication of UV lamps working hours.
The average lifetime of UV lamps supplied is 9000 hrs. This is equivalent to 1 year of non-stop use everyday for 24 hrs.