Air Purifiers – UV Cleaner-Recirculators (BioSan)
Air Purifiers – UV Cleaner-Recirculators (BioSan)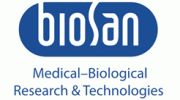 Air Purifiers are effective against common airborne diseases by sanitising the air and efficiently destroying disease-causing agents (viruses, microorganisms) by UV radiation
UV Air Purifiers consist of a germicidal UV lamp, a fan unit equipped with dust filters and a control unit, confined in a flowthrough chamber. UV Air Purifiers UVR-M and UVR-Mi are ideal for air sanitisation in research laboratory rooms, hospitals, and virtually all waiting areas. Both models can provide effective air recirculation as follows:
| Model | UVR-M | UVR-Mi |
| --- | --- | --- |
| Room with active ventilation (working air conditioner or air hood) | 10 square metres / 30 cubic metres | 15 square metres / 45 cubic metres |
| Ordinary ventilated room | 20 square metres / 60 cubic metres | 30 square metres / 90 cubic metres |
For larger rooms, increase unit count or type accordingly.  The UV-Mi is the more powerful model of UV air flow cleaner with two UV lamps.
Easy to install - convenient fixation on walls or optional mounting on a movable tripod (accessory UVR-S can be ordered separately)
Ideal for sanitising air in most indoor environments
Very low noise levels.
Provide complete protection from UV radiation
Digital control unit allows users to track overall UV lamp operating time.