Electroporation Systems – ECM 830: Square Wave (BTX)
Electroporation Systems – ECM 830: Square Wave (BTX)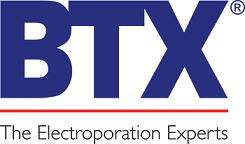 The ECM 830 Generator is a square wave pulse generator designed for in vitro and in vivo electroporation applications
**NEW** Significantly expand pulsing application capabilities by adding a Pulse Switcher to your ECM 830 system. Find our more >>
BTX square wave technology provides the advantages of high transfection efficiency and high cell viability for numerous cell and tissue types. Applications of the versatile ECM 830 for gene, drug and protein delivery include mammalian cells, in vivo and ex vivo tissues, zebrafish tissue and embryos, plant protoplast, and basic bacteria and yeast transformations.
Wide and accurate square wave voltage, and pulse duration settings
Multiple pulsing capability and control of pulse intervals
Preset protocols — including most common mammalian cell lines and tissues, as well as CRISPR applications (see flyer)
User-defined protocols — unlimited ability to add and modify
Safety — displays resistance measurements for each pulse with three layers of arc protection
Data management—stores logs of every pulse delivered for QC and troubleshooting
Ease of use — touch screen operation
Can be used in combination with a wide array of BTX specialty electrodes and accessories to enhance your molecular and drug delivery for in vivo and ex vivo experiments.