Aspirator – FTA-1: with Trap Flask (BioSan)
Aspirator – FTA-1: with Trap Flask (BioSan)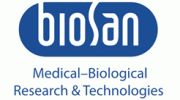 The Aspirator with Trap Flask FTA-1 is designed for aspiration or removal of alcohol, buffer and liquid from microtest tube walls
The FTA-1 can be applied for routine operations of cells washing from culture medium and re-suspension in buffer and during DNA/RNA purification or other macromolecule reprecipitation techniques. A tube holder-organiser is conveniently located on the right hand side which accommodates 2 tubes (for hydrochloric acid solution and distillate) necessary for collecting tip washing and storing, so that a tip can be re-used.
1 litre trap flask
Suction microbiological hydrophobic filter type
Handy tube holder-organiser
Accommodates 2 tubes
Optional accessories are available, including handheld vacuum controller, 1 and 8 channel adapters and stand.