Water Bath – WB-4MS: 4L Thermostated (BioSan)
Water Bath – WB-4MS: 4L Thermostated (BioSan)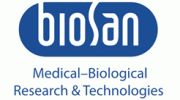 Stirred Water Bath  is designed for chemical, pharmaceutical, medical and biological laboratory research
The 4L Water Bath-Thermostat WB-4MS provides increased temperature stabilization (up to 0.1°C) due to a built-in magnetic stirrer (regulated speed 250–1,000 rpm). Simultaneously up to 2 tube racks can be installed.
Easy set up and compact size
Temperature setting range: +25°C to +100°C
Increased temperature stabilization due to built-in magnetic stirrer
Digital setting of temperature, time and mixing speed
High temperature maintenance accuracy
Optional accessories include a range of test tube racks.