Incubator, CO² – S-Bt Smart Biotherm (BioSan)
Incubator, CO² – S-Bt Smart Biotherm (BioSan)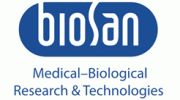 The compact S-Bt  Smart Biotherm CO² Incubator provides excellent uniform temperature distribution with six-sided heating
S-Bt Smart Biotherm CO² Incubator is designed for work in the areas of cell biology (operations with animal cell cultures and tissues), molecular biology (DNA/RNA reaction analysis, hybridization reactions), biotechnology (synthesis of target proteins and other molecules), immunology (synthesis of antibodies and other proteins of immune system).
Built-in infrared CO² sensor
Equipped with a UV air recirculation system
Unit has error tracing and alarm systems
'Black Box' system that records temperature, humidity and CO² levels
Bluetooth connection to PC is available.
See also Biosan's

CPS-20

CO² Shaker

which is designed for use in the S-Bt CO2 Incubator. This shaker is specifically designed for use in harsh environments such as CO2 and humidity and provides reproducible results for cell culture growth.