Shaker – C02, CPS-20 **NEW**: with remote controller (BioSan)
Shaker – C02, CPS-20 **NEW**: with remote controller (BioSan)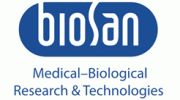 The CPS-20 CO2 Shaker, with remote controller, is specifically designed for harsh environments such CO2 and Humidity
The CPS-20 provides regulated orbital motion of the platform and is designed for use in Biosan's
S-Bt CO2 Incubator
. This shaker is specifically designed for use in harsh environments such as CO
2
and humidity and provides reproducible results for cell culture growth.
A choice of 5 interchangeable platforms
Brushless motor with a guaranteed service life up to 35,000 hrs
Equipped with a triple eccentric mechanism for platform motion
Remote controller allows for the protection of electronics from a CO2 incubator environment.
Optional accessories include a range of platforms to hold different size tubes, plates, flasks and other laboratory wares.