**SPECIAL OFFER** – UV Air Purifiers – from $666 (ex-GST)
**SPECIAL OFFER** – UV Air Purifiers – from $666 (ex-GST)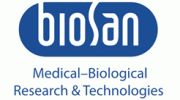 Safe to use and effective against common airborne diseases including Viruses, Micro-organisms, and Respiratory Viral diseases such as SARS-Coronavirus
There has never been a more important time to improve the quality of the air you breath!
The Biosan UV Air Purifiers are easy to install and ideal the sanitising air in most indoor environments. Fisher Biotec are offering these Air Purifiers for
$675
(ex-GST) for the UVR-M and
$1,170
(ex-GST) for the UVR-Mi (2x UV lamps) - movable tripod stand is an optional accessory. View the flyer for more details.