DNA Sample Collection Devices: iSWAB™ Microbiome-EL (MAWI)
DNA Sample Collection Devices: iSWAB™ Microbiome-EL (MAWI)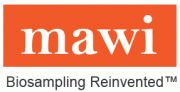 'Decrease processing time for COVID testing'
The Mawi iSWAB™ Microbiome-EL (Extraction-Less) Collection Kit is compatible with both nasal and saliva collection, inactivates SARS-CoV-2 for safe collection and storage iSWAB-Microbiome-EL, and has been specifically designed to eliminate the RNA extraction step in the COVID-19 testing workflow; allowing researchers to perform direct RT-PCR on individual and pooled samples. The iSWAB-Microbiome (MB) is a non-toxic stabilizing technology that enables the inactivation of bacteria, fungi, spores, and viruses, allows ambient collection and transport of various biosamples, and maintains the status quo at the time of collection. iSWAB-MB-EL is compatible and can stabilize both nasal swabs and saliva samples, and these samples can be used directly in PCR reactions without any prior major (RNA extraction) or minor (heating or/and Proteinase K treatment) sample processing and successfully detect SARS-CoV-2 without any observed PCR inhibition.
FEATURES:
Extraction-less, extraction-free PCR
Reduce processing time by eliminating the extraction step
Efficiently inactivates SARS-CoV-2 virus and other bacteria, fungi, spores, and viruses to allow safe transport of biological samples
Diminish risk of infection during sample collection process
Long term room temperature stabilisation up to 21 days
Compatible with any nasal and/or saliva collection swabs
Non-toxic stabilisation; upholds the integrity of sample with no degradation
Barcoded for sample traceability
Proven sensitivity and testing accuracy.
Please
contact us
for pricing on
1800 066 077
.