Biological Sample Collection – NextSWAB™ (MAWI)
Biological Sample Collection – NextSWAB™ (MAWI)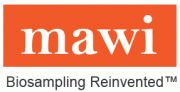 'Easier to process' - compatible with Nasal and Oral Sample Collection
**NEW** The Mawi NextSWAB™ is a sterile plastic sample applicator designed for high efficiency collection and release capability. NextSWAB has an industry standard 15 cm length, with a unique head design positioned at the distal end. The swab head is designed with two channels separated by a septum that can retain collected nasal or oral material, which can then be completely released into the transport media with a gentle shake, after which the NextSWAB can be discarded.
FEATURES:
Available in sterile in single and double swab pouches
Compatible with oral, fecal, vaginal, and mid-turbinate nasal sample collection
The two-channel design of the swab head provides an optimal sample capture mechanism for bodily fluids and cells
Compatible with any sample transport tube, making it ideal for multiple swab sample pooling in a single tube
An efficient alternative to flocked swabs.
STORAGE AND STABILITY:
Pre-collection: 36 months from date of manufacture between 15-30°C
Transport temperature, post-collection: 15-30°C.
Please
contact us
for pricing on
1800 066 077
.