FEATURED PRODUCT – MaestroNano Spectrophotometer, MN-917
FEATURED PRODUCT – MaestroNano Spectrophotometer, MN-917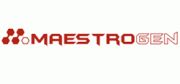 A whole new design concept - vertical slide design!
'MaestroNano' DNA RNA Quantification Spectrophotometer uses a vertical slide design to prove a more durable and stable sample measuring area
The MaestroNano system uses 2μL sample for easy measurement in less than 5 seconds.  Other features include automatic calibration, accurate, high reproducibility and repeatability along with a user-friendly interface, touch screen, USB Wi-Fi and QR code. View the flyer for more details, and contact us on 1800 066 077 for pricing queries.