Taq DNA Polymerase, Hot-start – Cheetah™ (Biotium)
Taq DNA Polymerase, Hot-start – Cheetah™ (Biotium)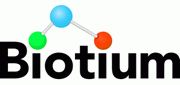 For speed, power and more, the Cheetah™ Taq is a chemically-modified hot-start DNA Polymerase for PCR
Cheetah™ Taq is a chemically modified hot-start Taq DNA polymerase useful for preventing or reducing nonspecific DNA amplification in PCR. Cheetah™ Taq is also superior to antibody-based hot-start DNA polymerases due to its complete supression of enzyme activity at room temperature and full recovery of enzyme activity following activation.
Proprietary chemically-modified hot-start Taq polymerase
Hot-start modified enzyme is completely inhibited on the bench, but fully active after just 2 minutes of heating
Ideal for fast PCR reactions
Used in all Biotium's qPCR Master Mixes.