Water Purification Systems – Labaqua Series (BioSan)
Water Purification Systems – Labaqua Series (BioSan)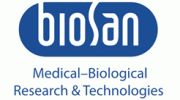 The Labaqua series (Labaqua Trace, Labaqua HPLC and Labaqua Bio) multi-purpose water purification systems produce ultrapure water directly from tap water
Ultrapure (Grade 1) water is dispensed through the point-of-use filter on the front panel. Pure (Grade 2) water is dispensed directly from the storage tank. Labaqua ultrapure water can be used for applications such as Inorganic trace analysis, Liquid chromatography, Cell culture, and Molecular biology. Pure water produced by the Labaqua systems complies with the requirements of ISO 3696 Grade 2 water and can be used for labware washing, wet chemistry methods, and flame spectrophotometers.
Volumetric dispense
High water quality
Total organic carbon (TOC) monitor
Color graphic LCD display
Low running costs
System flowchart.