Thermo-Shaker – TS-100C Smart: for Microtubes & PCR Plates, cooling + Bluetooth® (Biosan)
Thermo-Shaker – TS-100C Smart: for Microtubes & PCR Plates, cooling + Bluetooth® (Biosan)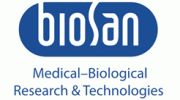 The new TS-100C Smart Thermo-Shaker with cooling for microtubes and PCR Plates is equipped with Bluetooth® and a free dedicated software
The TS-100C Smart is designed for orbital sample mixing in temperature setting range from +4°C to 100°C. The new shaker is equipped with Bluetooth® and a free dedicated software.
Speed control range: 250-1400 rmp
Orbit: 2 mm
Fast acceleration time to max speed: 3 sec
Temperature calibration function
Programmable
Wireless connection to PC
Connect up to 7 units to one PC
Remote control of rotation speed, temperature, time and sound signal.
See also: