Cycler – SuperCycler™: Thermal Trinity (Kyratec)
Cycler – SuperCycler™: Thermal Trinity (Kyratec)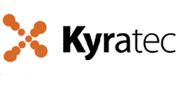 SuperCycler™ Trinity - Gradient Thermal Cycler is a high performance thermal cycling system
The SuperCycler thermal cycling system is configured and optimised for industry standard 200ul individual or strip tubes, or 96-well plates. The cycler incorporates state-of-the-art electronics, precision quality peltier devices and a flexible user interface. With a footprint of only 18 x 28.5 x 19 cms, it is designed to save valuable bench space within the laboratory.
Large 7" vivid color touch screen display
Powerful thermal engine with gradient ability
Exceptional PCR performance
Heated lid evaporation control
Touch screen graphical user interface
Compact footprint
Live temperature graphing
Temperature range of 4°C - 99°C
Handy USB port.