Nucleic Acid Extraction System (Robotic): BioMagPure 12 Plus (Biosan)
Nucleic Acid Extraction System (Robotic): BioMagPure 12 Plus (Biosan)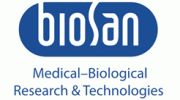 The BioMagPure 12 Plus consists of compact bench-top robotic workstations for automated nucleic acid purification
Usage of pre-filled reagent cartridges and disposable consumables enable a true walk-away automation and high quality nucleic acid extraction solution. Proven magnetic separation technology makes purification efficient, easy to use, reliable, safe and cost effective. 
BioMagPure 12
Plus
has an ingeniously designed polygonal reaction chamber with patented parts that ensure high efficiencies of lysis and elution through large contact area of magnet and heating element allowing to maximize magnetic bead recovery, minimize the residues of magnetic beads and alcohols in the final elute product. Specific formation of reaction chamber ensures unrivaled mixing ability and exclude conventional mixing by tip or pipetting thus eliminates cross-contamination possibility.
Advanced magnetic bead technology
Reaction chamber with patented parts
Piercing-pin system for elimination of cross-contamination
Walk-away automation
Reliable quality
No PC required
Ready-to-use reagent cartridges
3 easy steps: LOAD-RUN-OBTAIN
With the flexibility of processing 1-12 samples per run, the 
BioMagPure 12
Plus
 is tailor-made to fit small clinics and early stage laboratories. By occupying minimal counter space and greatly reducing technician man-hours, this series allows organizations to operate facilities in a much more cost effective fashion
Accessories:
Reagent kits
contains everything for extraction procedure performance including all necessary plastics, pre-filled reagent cartridges, incubation buffers and solutions for sample pre-treatment (if needed).