Spectrophotometer – MaestroNano: Micro-volume (Maestrogen)
Spectrophotometer – MaestroNano: Micro-volume (Maestrogen)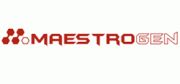 The MaestroNano DNA RNA Protein Spectrophotometer (MN-917) is ideal for bio-chemical research requiring micro-volume measurement
MaestroNano is a spectrophotometer for bio-chemical research only. The main function is micro volume concentration quantification, for nucleic acid including double-stranded nucleic acid (dsDNA), single-stranded nucleic acid (ssDNA), and ribonucleic acid (RNA), or protein solution.  The MaestroNano's measurement range of concentration is 2-2000 ng/µL.
Focus on nucleic acid and protein - 230nm/260nm/280nm/320nm
Convenient - 2 µl sample only, easy measurement in less than 5 seconds
Accurate - High reproducibility and repeatability
All-in-one - Embedded computer and thermo printer
Low-cost operation - No plates or other consumables
Best concentration range - 2 ng/µL (dsDNA) without dilution
High precision in the positioning of optical path - The height of optical path-length is precisely fixed in 0.5mm by fixed pin.