Electroporation Systems – ECM™ 630: Exponential Decay (BTX)
Electroporation Systems – ECM™ 630: Exponential Decay (BTX)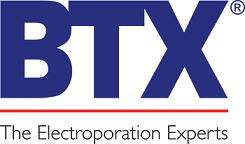 The ECM™ 630 is an electroporation system primarily used for bacteria, yeast, stem cell transfection, plant transformation and insect transfection
The ECM™ 630 offers full flexibility in selection of exponential decay wave voltage, resistance, and capacitance values. This flexibility is the key to achieving the optimal time constants and field strengths needed for efficient transformation of prokaryotes and transfection of eukaryotes. This system is an outstanding value for researchers working with bacteria, yeast, stem cell transfection, plant transformation and insect transfection.
Wide and accurate exponential decay voltage, internal resistance, and capacitance ranges
Preset protocols — including most common bacteria and microorganism cell types, as well as CRISPR applications
User-defined protocols — unlimited ability to add and modify protocols
Safety — displays sample resistance measurements for each pulse with three layers of arc protection
Data management — stores logs of every pulse delivered for QC and troubleshooting
Ease of use — touch screen operation.