Dry Block Heater – Thermostat CH3-150: Combitherm-2 (BioSan)
Dry Block Heater – Thermostat CH3-150: Combitherm-2 (BioSan)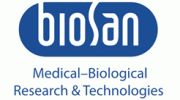 The Combitherm-2 CH3-150 is specially designed to thermostabilise materials at temperatures from –3°C to +150°C
The Combitherm-2 CH3-150 2 dry block heating cooling system is specially designed to thermostabilise materials at temperatures from –3°C to +150°C according to methods of analysis.
Stability: ±0.1ºC
Independently regulated heating and cooling blocks in the same unit
Digital timer with sound alarm: 1 min to 99 h 59 min (increment 1 min)
Digital temperature control for optimum precision
User adjustable programmes (temperature and time): 16 (heating) + 16 (cooling)
Temperature Calibration Function.
The CH3-150 has seven interchangeable blocks available. Custom blocks are available on request.