Centrifuge – LMC-56: Laboratory Bench-top (BioSan)
Centrifuge – LMC-56: Laboratory Bench-top (BioSan)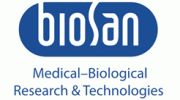 Laboratory Centrifuge, LMC-56, is a bench-top, multi-functional centrifuge for routine laboratory tasks
The LMC-56 Laboratory Centrifuge is ideal for biochemical, cytological, and immunological analyses. It can be used for sample preparation in research, biomedical and genetic laboratories. Features include:
Higher speed - maximum 6,000 rpm or 3,160 g
New bucket rotors, increasing maximum capacity to 400 ml
A wide selection of up to 13 rotors
Automatic recognition of rotors and setting the maximum speed for each rotor type
Improved ventilation of the working chamber to reduce tube heating during centrifugation
Auto stop in case of imbalance.