Transilluminator UV – UltraSlim® (Maestrogen)
Transilluminator UV – UltraSlim® (Maestrogen)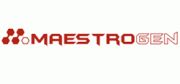 UltraSlim® UV Transilluminator
The UltraSlim® UV Transilluminator has cutting-edge construction for increased performance and efficiency. Optimized for use with nucleic acid and protein stains such as MaestroSafe, EtBr, SYBR® Safe, SYBR Gold, SYBR® Green I and II, SYPRO® Ruby, SYPRO® Orange, Coomassie Fluor™ Orange stains, GelGreen, GelRed and Lumitein™ Protein Gel Stain.
Compact and stylish
Higher S/N ratio
Strong UV for excitation
Optimized for use with mini gels
Uniformity supplies <5% coefficient of variance (CV) across the viewing area.