Transilluminator UV – UltraBright® (Maestrogen)
Transilluminator UV – UltraBright® (Maestrogen)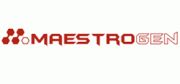 UltraBright® UV Transilluminator
The UltraBright® UV Transilluminator has a cutting-edge construction for increased performance and efficiency. Optimized for use withnucleic acid and protein stains such as MaestroSafe, EtBr, SYBR® Safe, SYBR Gold, SYBR Green I and II, SYPRO Ruby, SYPRO Orange, Coomassie Fluor™ Orange stains, GelGreen, GelRed and Lumitein™ Protein Gel stain.
Uniform lighting design, ultra high contrast
UltraSafe UV blocking cover
Fast turn on speed for UV lamps
Dual UV wavelengths: 302nm and 365nm
Adjustable intensity from 100% down to 50%.