Transilluminator LED – UltraBright® (Maestrogen)
Transilluminator LED – UltraBright® (Maestrogen)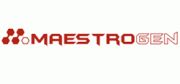 UltraBright® LED Transilluminator
The UltraBright® LED Transilluminator is ideal for viewing stained gels on the laboratory bench. Light from the LED source inside the instrument is effective for the excitation of nucleic acid and protein stains such as EtBr, SYBR Safe, SYBR Gold, SYBR Green I and II, SYPRO Ruby, SYPRO Orange, Coomassie Fluor™ Orange stains, GelGreen, GelRed and Lumitein™ Protein Gel stain.
Safe and easy for gel cutting
Adjustable intensity from 100% down to 50%
Strong blue LED for excitation
Uniformity supplies <5% co-efficient of variance (CV) across the full filter area.