Magnetic Stirrer – MS-3000: High speed (BioSan)
Magnetic Stirrer – MS-3000: High speed (BioSan)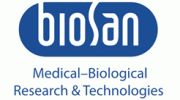 The Magnetic Stirrer (MS-3000) is an ideal laboratory instrument for PH-metering, extraction and dialysing with small quantities of substances
Units provide stirring of liquids with rotation speed of magnetic element up to 3000 rpm. Strong magnets hold the driven magnetic element firmly in the magnetic clutch. Stirring is performed without undesirable heating and noise.
Compact design with stainless steel working surface
Operating temperature range +4°C to +40°C
Rotation speed of magnetic element up to 3,000 rpm
Stirrer is supplied with a cylinder-shape magnetic stirring bar
Equipped with detachable stand.