Plate Shaker – Thermostat: PST-100HL (96-Well x 2) (Biosan)
Plate Shaker – Thermostat: PST-100HL (96-Well x 2) (Biosan)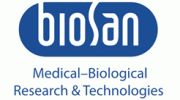 Plate Thermo-Shaker PST-100HL is designed for shaking and thermostating 2 standard 96-well microplates
The Thermo-Shaker can be operated as three independent devices -

Incubator, 

Microplate Shaker, and Thermo-Shaker. It provides heating up to 100°C, and is specially designed for  hybridization reactions.
Two-sided microplate heating
Soft or intensive sample shaking
Rotation speed regulation, stabilization and indication
Required operation time setting and indication
Automatic stopping of the platform movement after expiration of set time
Setting and indication of the required temperature on the platform.
Application fields include Cytochemistry (in situ reactions), Immunochemistry (immunofermentative reactions), Biochemistry (enzyme and protein analysis), and Molecular Biology (micro array analysis).