Dyes & Stains – qPCR Master Mixes – EvaGreen® (Biotium)
Dyes & Stains – qPCR Master Mixes – EvaGreen® (Biotium)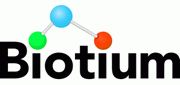 EvaGreen® Dye is a next-generation DNA-binding dye with features ideal for use in quantitative real-time PCR (qPCR) and many other applications
EvaGreen® dye is designed using a novel concept of DNA binding via "release-on-demand" mechanism. The dye is constructed of two monomeric DNA-binding dyes linked by a flexible spacer. In the absence of DNA, the dimeric dye assumes a looped conformation that is inactive in DNA binding. EvaGreen® master mix can be formulated with relative high dye concentration to maximize fluorescence signal without PCR inhibition, making the mix suitable for both qPCR and HRM applications. EvaGreen® Dye can be used as a general dsDNA-binding dye for DNA quantitation in solution, capillary gel electrophoresis and much more.
Environmentally safe
Superior for qPCR and isothermal amplification
Unrivaled DNA melt curve performance
Serving both as qPCR dye and a DNA gel stain
Compatible with multiplex PCR
Extremely stable
Applicable in other applications.