Buffer – BTXpress Cytoporation® T (BTX)
Buffer – BTXpress Cytoporation® T (BTX)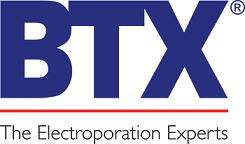 BTXpress Cytoporation® Low Conductivity Medium T  is designed with the BTX AgilePulse MAX Large Volume Electroporation System for ex vivo or in vitro delivery of DNA, RNA, oligonucleotides, and siRNA.
The low conductivity buffer is specially-formulated to minimize heating of solution during large volumes electroporation for maximum transfection efficiency and high cell viability. BTXpress Cytoporation Media T is sterile-filtered from the highest quality non-animal, medical-grade reagents. Two formulations with different conductivities are available for optimum conductivity for each eukaryotic cell types. Buffer can be directly diluted in complete growth media for post-electroporation cell culture.
Optimized for eukaryotic electroporation applications
Maximum transfection efficiency, high cell viability
Low conductivity means minimal heating or electrode arcing
Two formulations available – optimized conductivity for cell type
Physiological pH and Balanced Osmolarity
Contains no animal products.