Dyes & Stains – Nucleic Acid Gel: GelRed™ & GelGreen™ (Biotium)
Dyes & Stains – Nucleic Acid Gel: GelRed™ & GelGreen™ (Biotium)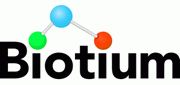 GelRed™ and GelGreen™ are fluorescent nucleic acid gel stains designed to replace the highly toxic ethidium bromide (EtBr)
GelRed™ and GelGreen™ are the only gel stains specifically designed to avoid interacting with genomic DNA by being cell membrane impermeable. They are highly sensitive either as precast gel stains or post gel stains. Designed for use with a 312/302 nm UV transilluminator, GelRed is much more sensitive than EtBr, and at least as sensitive as or brighter than SYBR Gold in post gel staining. Extensive tests, including those by third party labs, demonstrate that GelRed and GelGreen dyes are non-toxic, non-mutagenic, and non-hazardous for disposal.
Safer than EtBr
Easy disposal
Ultra-sensitive
Extremely stable
Flexible for different procedures
Simple to use
Perfect compatibility with a Standard UV Transilluminator or a Gel Reader.
View the entire Biotium product range >>