Dyes & Stains – Antibody & Protein Labeling Kits (Biotium)
Dyes & Stains – Antibody & Protein Labeling Kits (Biotium)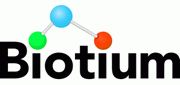 Mix-n-Stain™ are fast and easy kits for labeling antibodies, other proteins, and small ligands
Mix-n-Stain™ antibody labeling kits dramatically simplify the process of preparing fluorescently labeled antibodies, particularly primary antibodies. Simply mix your antibody and the dye or protein of your choice. After 30 minutes and without a separation step, you will have a covalently labeled antibody conjugate that is as good as a commercial pre-labeled fluorescent antibody.
Covalent labeling without purification
Requires only a few minutes of hands-on time
The most dye, tag and fluorescent protein labels to choose from
Label as little as 1 µg of precious antibodies
Labeling protocol tolerates BSA, gelatin, and even ascites fluid.