DNA Sample Collection Devices – iSWAB™ (MAWI)
DNA Sample Collection Devices – iSWAB™ (MAWI)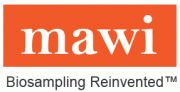 The MAWI iSWAB™ (Non-Invasive) Collection Device allows the release of cells captured from any swab into a proprietary lysis and stabilizing buffer
This method overcomes the problems of low recovery, high bacterial content, sheared DNA, and excessive re-sampling costs common to most current non-invasive sample collection methods. iSWAB™ products are also bar-coded for traceability with matching bar code labels on collection tube side, cap and outside packaging. Suitable for manual or automated processing and easily adaptable to common automation platforms.
iSWAB-Microbiome Collection Kit - [read News Story about how iSWAB-Microbiome kits are helping to fight the COVID-19 Pandamic]
iSWAB-Microbiome is a non-lytic technology developed for microbiome research providing a representative snapshot of the microbial community that remains unchanged from collection to processing of oral, gut/fecal, skin, vaginal and soil samples. It is the only microbiome collection product on the market with up to 40 day room temperature stability, without the need for freezing and with no toxic organic solvents. This product also masks the odor of collected feces or any other pungent samples. Ideal for:
All Microbiome research requiring DNA/RNA suitable for qPCR
Microarray and NGS
Re-growth of microbes contained in the sample.
iSWAB-DNA Collection Kit and iSWAB-Discovery Collection Kit
The iSWAB DNA kit for humans can capture samples producing high yields of double stranded, long fragmented DNA from buccal cells using traditional swabs.
10-30µg DNA yield, <1% bacterial DNA content
High quality, double stranded, long fragment DNA
Room temperature transport and long-term storage.
iSWAB-RNA Collection Kit
The iSWAB RNA device allows for the collection, concentration, and stabilization of RNA at the point of collection.
Up to 6µg of total DNA, <1% bacterial genomic DNA contamination
Room temperature stable - reduce sample storage and transport costs.
iSWAB-Blood Collection Kit
iSWAB-Blood is an efficient system for the concentration and long term room temperature stabilization of gDNA and analytes from blood drops.
Liquid blood collection with no drying time required
Collected sample is ready for room temp shipment and long term storage
Scaleable and easy to process: manual and automation friendly sample processing.
iSWAB-Protein Collection Kit
The iSWAB-Protein kit allows for high sensitivity of drugs in enzyme-based immunoassay detection. The MAWI lysis and stabilization buffer does not interfere with enzyme immunoassays based detection and allows for high sensitivity testing.
iSWAB-VET Collection Kit: Animal DNA Kit
Collect your DNA samples from animals with high yield <1% bacterial contamination. Reduce downstream failure rates for your animal genetics testing by using the iSWAB-VET collection kit.
iSWAB-ID Collection Kit
The iSWAB-ID system enables long term room temperature stabilization of the collected sample at the point of collection, while ensuring proper chain of custody. This system allows for maximizing sample recovery and obtaining human DNA compatible with ID profiling assays.
Efficiently recovered and stabilized DNA of forensic significance at the point of collection
Collected samples are stable over 5 years at room temperature storage.