DNA Sample Collection Devices – iSWAB™ Forensic ID (MAWI)
DNA Sample Collection Devices – iSWAB™ Forensic ID (MAWI)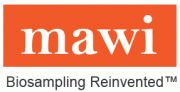 iSWAB-Forensic ID Collection Kits can be used for Crime DNA Recovery, Quality and Integrity
iSWAB-Forensic ID kits are non-invasive sample collection tubes for collection and stabilization of protein and DNA in the same oral sample. iSWAB-Forensic ID is an efficient sample collection system which enables long term room temperature stabilization of the collected sample at the point of collection, while ensuring proper chain of custody. This system allows for maximizing sample recovery and obtaining human DNA compatible with ID profiling assays. DNA extraction can be performed using any commercially available whole blood extraction chemistry.
BENEFITS:
Efficiently recovered and stabilized DNA of forensic significance at the point of collection.
Unlike processing traditional swabs, collecting samples with iSWAB-ID allows for multiple runs for analysis and archiving purposes.
Collected samples are stable over 5 years at room temperature storage (based on accelerated stability testing).
Please
contact us
for pricing on
1800 066 077
.