ELISA Kits – Acute Phase Protein (Life Diagnostics)
ELISA Kits – Acute Phase Protein (Life Diagnostics)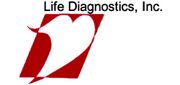 Acute Phase Protein ELISA kits
Acute Phase Proteins including alpha-1-acid glycoprotein, CRP, haptoglobin and SAA are used as biomarkers of inflammation, infection and tissue injury.
Life Diagnostics
manufactures ELISA kits,
SPARCL™ Assay Kits
,
purified proteins
and antibodies for acute phase protein research and diagnostic assay development in preclinical research species, companion animals and livestock.
Example
The figures and table (see image attached) illustrate the serum levels of acute phase proteins in lipopolysaccharide (LPS) treated rats using ELISA kits manufactured by Life Diagnostics. Sprague Dawley (~200g) rats were injected (i.p.) with 1 mg/kg LPS in saline. At the times indicated, blood was drawn and serum prepared. Acute phase protein levels were evaluated using LDI ELISA kits. Data are illustrated as fold-change relative to baseline values.