LMC-56 Laboratory Centrifuge
LMC-56 Laboratory Centrifuge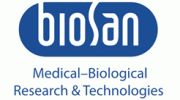 BioSan's latest modern centrifuge. The LMC-56 is a low-speed laboratory centrifuge designed for accurate sedimentation, centrifugation and collection of necessary samples. BioSan centrifuges contain metal protection housing for easy maintenance and safe work. This unit is suitable for a wide variety of applications including medical, industrial and chemical.
Features
It is a user-friendly device
Metal protective housing for safe performance
Emergency stop and imbalance indication
Active speed limit with automatic rotor detection
Maximum 6,000 rpm or 3,750g.
Up to 13 rotors to select from.
Equipped with different modes of acceleration and deceleration.
Ability to set the speed both in revolutions per minute and by relative centrifugal force.
Available in the following formats
BR-4U, Bucket rotor 4-place w/out adapters

BA-2/50, bucket adapter for 2x 50ml tubes (set of 4 pcs.) To be used with BR-4U rotor.

BA-4/15, bucket adapter for 4x15ml tubes (set of 4 pcs.) To be used with BR-4U rotor.

BA-14/2U, bucket adapter for 14x2ml microtest tubes (set of 4 pcs.). To be used with BR-4U rotor.

RMT-24, angle rotor for 24x 1.5/2 ml microtest tubes

Biosan LMC-56 Multifunctional Laboratory Centrifuge, w/out rotor