Centrifuge – LMC-4200R: Laboratory, Refrigerated (BioSan)
Centrifuge – LMC-4200R: Laboratory, Refrigerated (BioSan)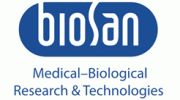 The Laboratory Refrigerated Centrifuge provides temperature control of bio-material during centrifugation
This bench-top laboratory refrigerated model LMC-4200R centrifuge is designed for operation with micro-test plates, Gel Cards and tubes from 2 to 50 ml.
Effective way of acceleration and deceleration: run-up time 20 sec, and run-down time, not more then 30 sec.
Maintains stable temperature during operation
User-friendly setting of centrifugation parameters
Automatic imbalance switch-off and locking lid.