Stains – Antibody Labeling Kits: Mix-n-Stain™ (Biotium)
Stains – Antibody Labeling Kits: Mix-n-Stain™ (Biotium)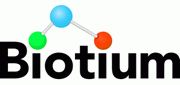 Mix-n-Stain™ Antibody Labeling Kits use revolutionary technology that dramatically simplifies the process of antibody labeling
Mix-n-Stain™ antibody labeling kits dramatically simplify the process of preparing fluorescently labeled antibodies, particularly primary antibodies. Simply mix your antibody and the dye or protein of your choice. After 30 minutes and without a separation step, you will have a covalently labeled antibody conjugate that is as good as a commercial pre-labeled fluorescent antibody.
As fast as 30 minutes, with minimal hands-on time
100% yield, post-labeling purification not needed
Labeling tolerates BSA, gelatin, ascites fluid, and Tris.
A large selection of labels are available, including:
Choice of ~30 bright fluorescent CF® Dye colors
Fluorescent proteins and tandem dyes: R-PE, APC, PerCP, RPE-CF®750T
Enzymes: horseradish peroxidase (HRP), alkaline phosphatase (AP), glucose oxidase (GOx)
Biotin, dinitrophenol (DNP), digoxigenin (DIG).