Bioreactors (Personal) – RTS-1 & RTS-1C: RT Cell Growth Logger (BioSan)
Bioreactors (Personal) – RTS-1 & RTS-1C: RT Cell Growth Logger (BioSan)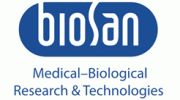 The RTS-1 and RTS-1C are Personal Bioreactors that feature Real-Time cell growth logging with innovative mixing technology
The RTS-1 and RTS-1C personal bioreactors utilize patented Reverse-Spin® technology that applies non-invasive, mechanically driven, low energy consumption. The innovative type of agitation, where cell suspension is mixed by the single-use falcon bioreactor tube rotation around its axis with a change of direction of rotation motion, results in highly efficient mixing and oxygenation for aerobic cultivation. Combined with a near-infrared optical system it is possible to register cell growth kinetics non-invasively in real-time.
Individually controlled bioreactor accelerates optimization process
Reverse-Spin® innovative mixing technology
3D graphical representation of OD or growth rate over time over unit
Connect up to 12 units simultaneously to 1 computer
Two models available
Compact design with low profile and small footprint for personal application.