Protein A Agarose – Introductory 25% Discount
Protein A Agarose – Introductory 25% Discount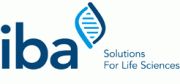 Fisher Biotec is currently offering an introductory 25% DISCOUNT on the new Protein A Agarose products
IBA's Protein A Agarose is a very cost effective reagent for purifying human and mouse IgG antibodies. It has a high dynamic capacity combined with an excellent NaOH stability.
Benefits of Protein A Agarose affinity resins:
High NaOH stability (CIP 0.5 M NaOH 100 cycles)
≥ 70 mg/ml binding capacity
Cost effective products.
Please contact us for more information or ring freecall 1800 066 077. Fully compatible with HPLC and Äkta devices.