DNA Sample Collection Devices – iSWAB™ Blood (MAWI)
DNA Sample Collection Devices – iSWAB™ Blood (MAWI)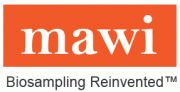 iSWAB-Blood Collection Kit overcomes the limitations of filter-paper based blood drop collection
iSWAB-Blood is an efficient system for the concentration and long term room temperature stabilization of gDNA and analytes from blood drops. iSWAB-Blood overcomes the limitations of filter-paper based blood drop collection. The tube is equipped with a squeezing insert to enable the efficient removal of blood from the swab, and into a proprietary DNA, RNA, and metabolite stabilizing solution for long term room temperature storage and transport.
FEATURES:
Liquid blood collection: <5 min collection process
Collected sample is ready for room temperature shipment and storage
Can be performed with a standard whole blood purification protocol, yielding 2- 8 µg of high MW gDNA
Easy access to the sample for screening and/or in depth analysis purposes
Manual and automation compatible
LIMS-compatible unique barcodes included on each iSWAB tube
Scalable and easy to process.
Please
contact us
for pricing on
1800 066 077
.