Custom Oligos and Pre-defined DNA/RNA (IBA Lifesciences)
Custom Oligos and Pre-defined DNA/RNA (IBA Lifesciences)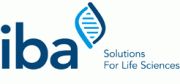 Save time using IBA tailored oligos for specialized nucleic acid application
Custom DNA and RNA - DNA oligo synthesis and DNA probes for different purposes as well as high quality RNA synthesis and RNA products with high purity and biological activity.
Fluorescent Labels - Choose from more than 200 fluorescent labels which cover the entire spectrum from ultra-violet to infrared.
Custom Aptamers - Aptamers are DNA or RNA (or peptide) molecules that can bind to specific targets, eg proteins, small molecules or toxins.
Backbone Modifications - Nuclease-resistant phosphorothioates (PTOs) for DNA and RNA for antisense applications.
Photo-regulation of Modifications - Using UV or visible light to control reactions with adobenzene modification. Process is fully reversible and does not decompose or induce undesirable side reactions.