Protein Purification – Strep-Tactin®XT 4Flow® (IBA Lifesciences)
Protein Purification – Strep-Tactin®XT 4Flow® (IBA Lifesciences)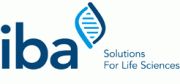 The Strep-Tactin®XT 4Flow® Starter Kit provides all you need for recombinant protein purification and Western Blot detection
Strep-Tactin®XT is a further engineered Strep-Tactin® variant with improved binding affinity for Strep-tag®II and Twin-Strep-tag®. It is suitable for purification of all protein classes, especially enzymes, metallo enzymes, membrane proteins, low abundant proteins and large proteins, without interfering with protein folding or enzyme activity. The Strep-Tactin®XT Starter Kit consists of:
1 ml Strep-Tactin®XT 4Flow® gravity flow column
1x Buffer W (Strep-Tactin®/Strep-Tactin®XT Wash Buffer)
1x Buffer BXT (Strep-Tactin®XT Elution Buffer with Biotin)
1x Buffer XT-R (Strep-Tactin®XT Regeneration Buffer)
Strep-Tactin® conjugated with HRP (for Western Blot Detection)
Short Protocol.