Protein Purification – Gravity Flow Columns: Strep-Tactin® XT Superflow® High Capacity (IBA)
Protein Purification – Gravity Flow Columns: Strep-Tactin® XT Superflow® High Capacity (IBA)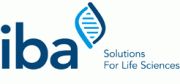 Simplify your recombinant protein purification - high purity from a simple one-step purification results in high purity
Strep-tag® Purification System is based on the highly selective binding of engineered streptavidin, called Strep-Tactin®, to Strep-tag® II fusion proteins. Strep-Tactin® Superflow® high capacity is a new resin for protein purification via Strep-tag® or Twin-Strep-tag®. This resin efficiently captures recombinant proteins in high yields, and, together with unbeatable pricing, it is the favorable alternative to all other Strep-Tactin® resins.
High affinity available among affinity purification systems
Higher protein yields compared to all other Strep-Tactin® resins
Elution of concentrated protein due to small elution volumes
Cost efficient: small price for more protein.
Available in different formats and sizes.