Centrifuge/Vortex – MSC-6000: Automatic Multi Spin (BioSan)
Centrifuge/Vortex – MSC-6000: Automatic Multi Spin (BioSan)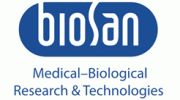 Centrifuge/Vortex Multi-Spin technology is a must-have instrument for PCR and the DNA Analysis Laboratory
Centrifuge/vortex Multi–Spins MSC-6000 Spin–Mix–Spin technology is intended for collecting micro volumes of reagents on the microtube's bottom (first centrifugation spin), following mixing and collecting the reagents again from the walls and cap of the microtube.
Fully automatic device for reproducing sms-algorithm for 12 tubes at one time
The multi-spin is four devices combined in one
3 mixing modes, soft, medium, hard with regulated time.
Speed control max. - 6,000 rpm
RCF max. 2,350 x g.