Dyes & Stains – Near-Infrared Fluorescent (Biotium)
Dyes & Stains – Near-Infrared Fluorescent (Biotium)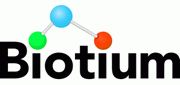 Near-Infrared CF™ Dyes (near-IR, NIR) are ideal for in vivo fluorescence imaging, and highly sensitive multiplex Western blotting and In-Cell Western™ assays
NIR CF™ dye advantages include:
Brightness
Photostable
Water soluble
pH Insensitive
Compatible with popular instruments.
Other NIR Dyes include -
Carbocyanine dyes label cytoplasmic membranes and intracellular membrane structures efficiently and permanently.
CellBrite™ NIR680 is a novel near-infrared carbocyanine dye for labelling cell membranes.
DiR is a classic near-infrared fluorescent lipophilic caryocyanine dye that can be used to label cells and liposomes for in vivo imaging.