Custom Protein Services (IBA Lifesciences)
Custom Protein Services (IBA Lifesciences)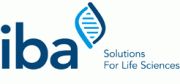 Save time using IBA custom protein production services
Streptamer® Custom Service
Streptamer® cell selection and expansion with reversible reagents. Please contact Fisher Biotec for further information on any of these services.
Cloning, Protein Expression and Purification
Comprehensive service from gene to protein via the innovative StarGate® amd the Strep-tag® technologies.
Oligonucleotide Synthesis
Custom oligonucleotides, single and double strand DNA and RNA, tailor-made.